Last year was B's first time celebrating Valentine's Day at school, so I wanted to make him a special Valentine's box. One of his favorite characters is Iron Man from the Avengers, so I decided to make him his very own Iron Man Valentine Box. With some leftover boxes, paper, and paper mache, you can make this special valentine's box, too!
Iron Man Valentine Box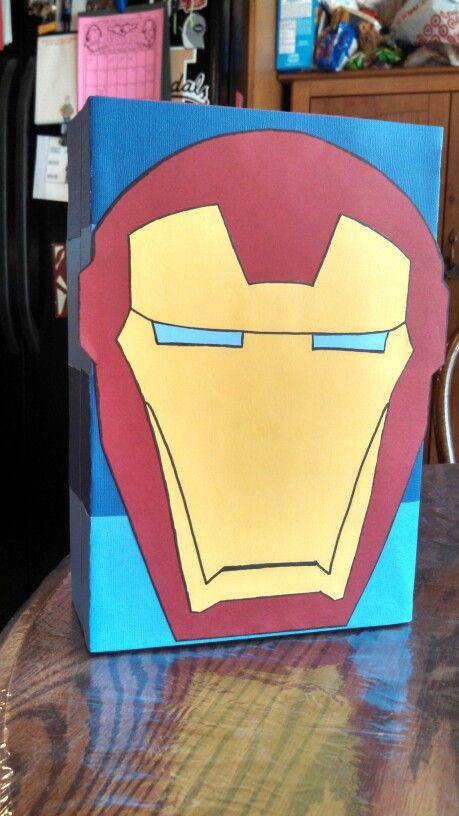 Materials:
2 Boxes – one flat one  and one rectangular
Thin cardboard Tagboard
2" Painter's Tape
Red and Yellow butcher paper
Neon Blue Post-it
Elmer's Art Paste or wallpaper paste
pencils
18 Inch metal ruler
X-ACTO Knife
Directions: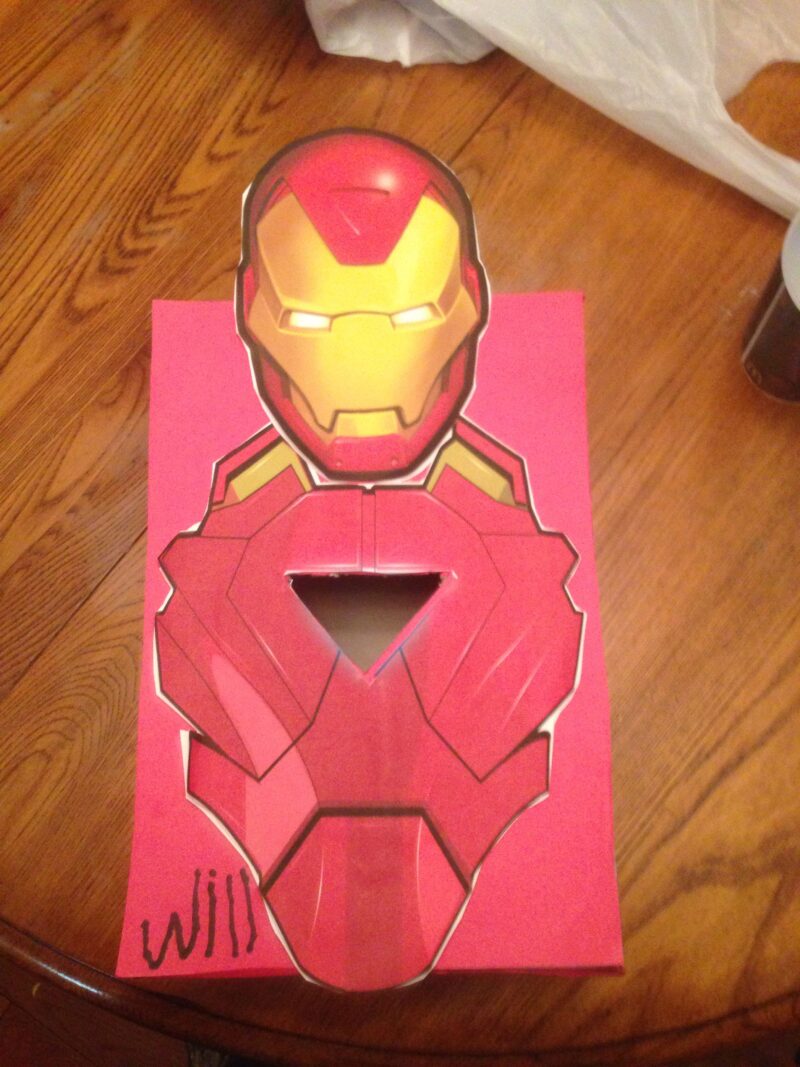 Find two boxes.  We used a flat square box for the bottom and a smaller rectangular one for the head.
Center the rectangular box on the flat box so it is standing up.  Trace the box onto the bottom box.
Lift up the box and measure another square about a half inch in around the inside of the rectangle you just drew.  Cut out the inside square.
Next, cut out the bottom of the rectangular box where it connects to the base.  Tape them together so the openings connect.
Measure the dimensions of the rectangular box and draw them on a larger sheet of thin cardboard
Add an arc to the top of the rectangle and parallelograms on the sides for ears.  We took this opportunity to plan what we wanted the face to look like.
Cut the outer edges of your iron man drawing with a box cutter or scissors. Then trace it on the second sheet of thin cardboard and cut that also
Tape the 2 Iron Man heads to the rectangular box by rolling the tape and putting it on the back of the heads.
Measure the width in between the faces and create strips on the excess thin cardboard and cut those out.
Cut or score the strips measuring between the angles of iron mans face so you can wrap the strips around snug. Tape the strips on to both sides of the face.
Mix paper mache paste.
Paper mache thin strips of red paper over the entire project.  2 layers would suffice in holding the whole thing together but the more layers of paper the stronger the whole thing will be.
Paper mache yellow next to create the face.  Followed by blue paper for the eyes and black for the details of his face.
When dry cut with the xacto along the seams of the flat box to allow it to open and Valentine's box is ready to store hundreds of heartfelt messages.
Avengers: Age of Ultron
B is not the only one in the family that loves Iron Man and the Avengers. My wife and I are excited to see Avengers: Age of Ultron set to hit theaters on May 1! Check out the new trailer below!