As I said before, my mom, I mean the Easter Bunny went all out for Easter. One of my favorite memories from Easter was that the Easter Bunny left little bunny footprints behind that lead to each of our Easter baskets. They were our little trail that we had to follow to find our baskets.
The older we got, the harder the trail was to find them. So many fun memories! I remember saying to my mom that she must be so upset that there were Easter Bunny footprints all over our carpet.
This is Baybah's first Easter, so I made the trail easy for him to follow. He loved it!
I am so excited to make the footprints again for Baybah this year. I wonder what he is going to do and say when he sees them?!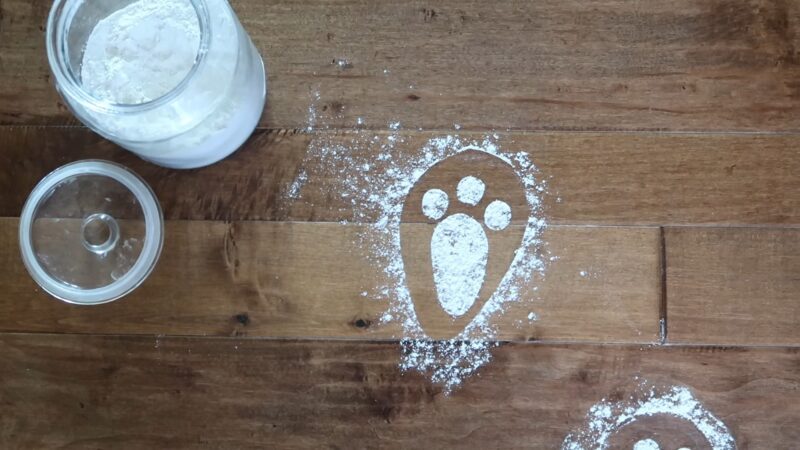 The footprints are so easy to make, and even easier to clean up. All you need is a bowl, baby powder, and your fingers to make them, and a broom or vacuum to clean them up.
Here is how:
1. Pour a small amount of powder in a bowl.
2. Dip your first 2 fingers and thumb in the powder.
3. Start making your trail by pressing your 3 fingers on the carpet and/or furniture.
4. To clean, vacuum or wipe off with a broom.
I hope your kiddo's enjoy the Easter Bunny footprints as much as I did. Let me know if you do this! I would love to hear what your kids thought!
Check out some other interesting DIY projects for Easter that you can do with your kids.